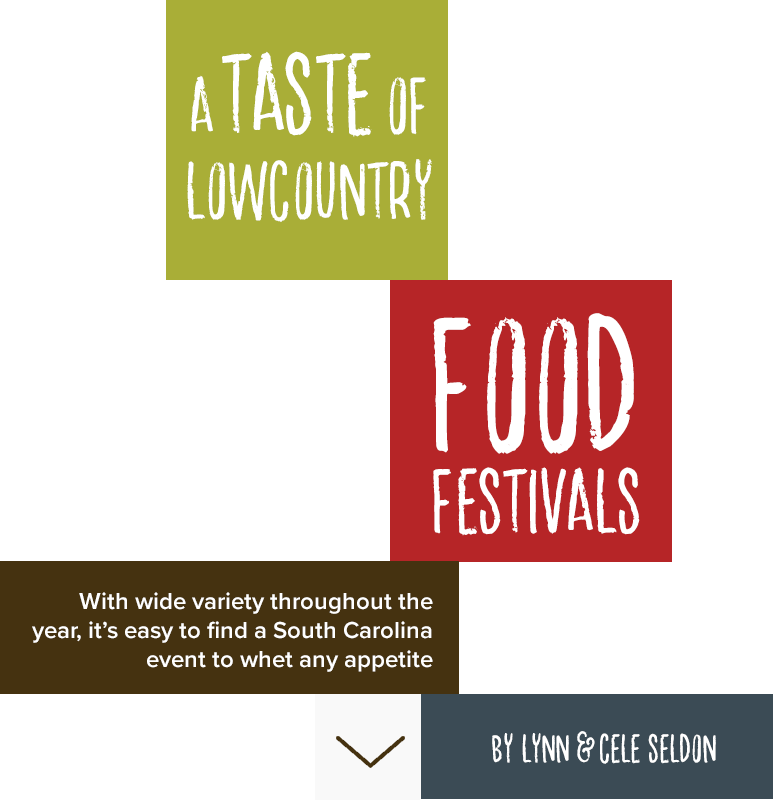 A Taste of Lowcountry Food Festivals
With wide variety throughout the year, it's easy to find a South Carolina event to whet any appetite
By Lynn & Cele Seldon
"Quite simply, we love Lowcountry food festivals like a blue crab loves a chicken neck."
Quite simply, we love Lowcountry food festivals like a blue crab loves a chicken neck. All our Lowcountry friends seem to enjoy local fare as much as we do. And all of us jump at any chance to celebrate the region's food.
From devouring creative shrimp dishes to shucking oysters or simply enjoying fresh ingredients from the land and sea, we never turn down the chance to take a big bite out of a festival focusing on food.
Jasper County SC/GA BBQ Cookoff
(April 6–7, 2018)
Held on an April weekend, the Jasper County SC/GA BBQ Cookoff takes place in Hardeeville on quaint Main Street. The flavorful festival features a competition of the best barbecue teams from South Carolina and Georgia. It's a South Carolina Barbecue Association-sanctioned event, so competition for those cash prizes is fierce. And with categories including butts and ribs, attendees leave full.
The combination of barbecue, cold beer and live music makes this cook-off an especially popular festival.
Beaufort County Port Royal Soft Shell Crab Festival
(April 21, 2018)
Held each year at the height of the area's soft-shell crab season, the Beaufort County Port Royal Soft Shell Crab Festival is a tasty, fun, and crabby kind of day. It features distinctive soft-shell crab dishes from several local restaurants, plus lots of other food, arts and crafts vendors, entertainment and more.
One of many highlights of the Soft Shell Crab Festival is the Lowcountry and Beaufort Rotary's Crab Race (a rotary fundraiser). Picture 5,000 adopted rubber "crabs" floating in Battery Creek. Prizes are awarded for the crabs that float past the finish line in top spots. A similar fundraising race organized by Sea Island Rotary is held at the Beaufort Shrimp Festival come October.
Colleton County Rice Festival
(April 27–28, 2018)
In the county seat of Walterboro (known as the "The Front Porch of the Lowcountry"), the Colleton County Rice Festival honors the role that rice and the resulting rice culture has played in Colleton County and across the Lowcountry for more than four centuries. Festival attendees enjoy tasty food, arts and crafts, fireworks, music and other entertainment.
The popular arts and crafts area is central to the festival and includes a wide array of handcrafted options. There's also a pageant and crowning of Rice Festival Queen, as well as the Rice Festival Parade meandering through downtown, and a 5K race.
Hampton County Watermelon Festival
(June 16–24, 2018)
Started more than 75 years ago and taking place for a week each June, the Hampton County Watermelon Festival is a juicy celebration of all things watermelon. With events throughout the county and at varied locations, picking which events to attend is almost as hard as picking a perfectly ripe watermelon.
The Watermelon Festival Parade (dating back to 1939) is known as being the longest parade in South Carolina—stretching from Varnville to the county seat of Hampton. Remember how we told you there was a lot going on? Here's what you can choose from: the huge Festival Street Dance; Family Fun Day; Youth Parade; Taste of Hampton County; live entertainment; a carnival; a 5K run/walk; Watermelon Festival Queen, Teen Queen and a court of Belles and Beaus; and so much more. There are even free melon slices at select times at the Courthouse Square Fountain.
Beaufort Shrimp Festival
(October 5–6, 2018)
Each October, the Beaufort Shrimp Festival pays tribute to shrimp and the shrimping culture in the charming town of Beaufort. Activities are primarily held in Henry C. Chambers Waterfront Park. Highlights include: a best shrimp dishes contest, shrimp heading and peeling competitions for kids, live entertainment, arts and crafts, a 5K run/walk, and the popular Sea Island Rotary's Charity Rubber Shrimp Race.
Along with shrimp and lots of other food and beverage options, live music on the waterfront is a big part of the Beaufort Shrimp Festival. A full schedule of shows serves as a lyrical backdrop for the food, shopping and more.
Oyster roasts
Oyster roasts are a happy tradition throughout the Lowcountry each fall and winter. It's a rare weekend during this season that there isn't a roast occurring somewhere in the region. From large fundraisers with bushels of roasted oysters, barbecue and live music to smaller affairs celebrating oysters, a Lowcountry oyster roast is a food-focused festival at its finest. For instance, all-you-can-eat oysters are on the menu on Edisto Island at the Flowers Seafood Annual Oyster Roast (November 24, 2018).
Take a bite out of some other tasty Lowcountry food festivals
Other tasty food festival options in the Lowcountry abound, including:
Hilton Head Island Seafood Festival (February 19–25, 2018)
Hilton Head Island Food & Wine Festival (March 5–11, 2018)
Taste of Beaufort (May 4–5, 2018)
Bluffton Boiled Peanut Festival (September 22, 2018)
Bluffton Arts & Seafood Festival (October 13–21, 2018)